Reader's Advisory
November Staff Picks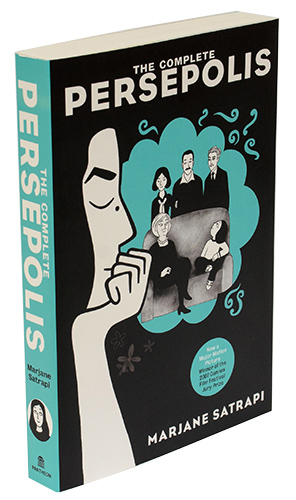 complete Persepolis
By Marjane Satrapi
Call # 955.05 SAT
From the publisher: Persepolis is the story of Marjane Satrapi's childhood and coming of age within a large and loving family in Tehran during the Islamic Revolution; of the contradictions between private life and public life in a country plagued by political upheaval; of her high school years in Vienna facing the trials of adolescence far from her family; of her homecoming--both sweet and terrible; and, finally, of her self-imposed exile from her beloved homeland.
Todd / Librarian: This is a beautifully written graphic memoir that vividly brings to life a deeply personal story. A must read for any graphic novel fan!
The age of sustainable development
By Jeffrey D. Sachs ; foreword by Ban Ki-Moon
Call # 338.9 SAC
From the publisher: Jeffrey D. Sachs is one of the world's most perceptive and original analysts of global development. In this major new work he presents a compelling and practical framework for how global citizens can use a holistic way forward to address the seemingly intractable worldwide problems of persistent extreme poverty, environmental degradation, and political-economic injustice: sustainable development. Sachs offers readers, students, activists, environmentalists, and policy makers the tools, metrics, and practical pathways they need to achieve Sustainable Development Goals. Far more than a rhetorical exercise, this book is designed to inform, inspire, and spur action. Based on Sachs's twelve years as director of the Earth Institute at Columbia University, his thirteen years advising the United Nations secretary-general on the Millennium Development Goals, and his recent presentation of these ideas in a popular online course, The Age of Sustainable Development is a landmark publication and clarion call for all who care about our planet and global justice.
Susan Olson Higgins / Friend of the Corning Library: This is an important book, probably one of the most important in this decade, which outlines in detail the urgency of our earth's conditions on many levels from environment to the population explosion, the need for nations to work together to creating governments that honor, educate, feed, and respect all people. Working in tandem, we can save our earth. Time is precious. We need to act immediately, or put ourselves in peril. I personally have recommended this book to as many as possible from librarians to educators to scientists, to business leaders, and Congressmen, as well as many more, in hopes the word will reach those who read it may be influenced, and join the race to save our earth. This is an urgent issue. This book addresses problems and solutions with extraordinary research, referencing top experts in the world.
Bestsellers Lists
About Us

Library Services

Childrens Services

Teen Services

Reference Services

Adult Services

Rules & Policies

Databases / ebooks